Before you check availability or make a reservation, please read...
We cannot process same day reservations online, please call the resort directly at 800.424.0041.

LOWEST PRICE GUARANTEE – The rates & packages found on our website are the lowest available anywhere, anytime. Rate integrity is very import to us. It is the reason 60-70% of our guests come again.
The Country House maintains a quiet and relaxed environment. Your cooperation in maintaining this atmosphere will be appreciated.
Check-In 3:00 P.M. & Check-Out 11:00 A.M.
We do not accommodate children under the age of 13.

If your dog will be joining you for your stay, please see our Resort Dog Policies and Agreement page for specific policies and detailed information. If you wish to make reservations that include your dog, PLEASE CALL THE RESORT do not make your reservation online.
Reservation Policies
Rates based on double occupancy, each additional person $25.

Two or three night minimum on most weekends in the fall and peak season.

Deposit required to guarantee a reservation.

Deposit, by check or credit card, must be received within seven days from date reservation is made.

All rates subject to 5.5% sales tax and 5.5% room tax.

Suite security policy requires credit card at registration.

We welcome well-behaved dogs in designated rooms.

Please notify us when making reservations if you have pet allergies
No Smoking Policy
Effective July 5, 2010 Wisconsin state law prohibits smoking in all private and public rooms.

The Country House also has a no smoking policy on all private and common balconies. Please be considerate of your fellow guests.

Smoking is allowed outdoors, on the grounds and in public areas. Please be careful to extinguish all smoking materials and deposit in appropriate waste receptacles. Protect our natural setting, grass and forest fires start easily.

There will be a $250 cleaning fee if, in the opinion of management, there has been smoking in a room which necessitates cleaning draperies and bed spreads to remove the smell. We very much appreciate your cooperation.
Cancellation Policy
Deposit less $20 service fee will be refunded for reservations canceled 14 days or more prior to arrival date.

No refund will be made for any cancellation received within 14 days of scheduled arrival.

Deposit applies to last days of reservation. If reservation is changed after arrival, you will be responsible for original reservation.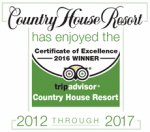 Connect with us on Social!