What Our Guests Say About Country House Resort
We've curated these guest reviews from our first-hand comments from guests and from sites like TripAdvisor, Google Local and Facebook. We appreciate any and all feedback from our guests.
Our hearts and souls go into our independently-owned, family-run business. We promise to do our best to live up to your expectations and will try to delight you at every turn.
  My husband and I searched for a dog friendly vacation in WI and found The Country House Resort….we are so glad we did. The property is serene and beautiful. The staff are extremely friendly and personable. They even had a welcome basket in our room for our dog when we arrived. We especially enjoyed…
Read More
97.9%  post-stay Guest Surveys
4.5 out of 5 on TripAdvisor
Have a suggestion, a concern or even a compliment? Please let us know so we make every day and every stay better.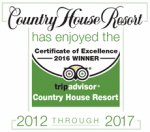 Connect with us on Social!