What Our Guests Say About Country House Resort
We've curated these guest reviews from our first-hand comments from guests and from sites like TripAdvisor, Google Local and Facebook. We appreciate any and all feedback from our guests.
Our hearts and souls go into our independently-owned, family-run business. We promise to do our best to live up to your expectations and will try to delight you at every turn.
Stayed for two nights before Memorial Day and our visit was lovely. Everything about this Door County property is nice. The resort is large and very well maintained by the family who owns it. The room was comfortable and roomy, updated and very clean. There is a lovely (steep) trail down to the bay that…
Read More
97.9%  post-stay Guest Surveys
4.5 out of 5 on TripAdvisor
Have a suggestion, a concern or even a compliment? Please let us know so we make every day and every stay better.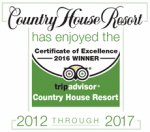 Connect with us on Social!