What Our Guests Say About Country House Resort
We've curated these guest reviews from our first-hand comments from guests and from sites like TripAdvisor, Google Local and Facebook. We appreciate any and all feedback from our guests.
Our hearts and souls go into our independently-owned, family-run business. We promise to do our best to live up to your expectations and will try to delight you at every turn.
We recently stayed 3 nights at the Country House Resort in Sister Bay, WI. We had a queen bed whirlpool water view room. Their location is at the top of a hill with a wonderful view of the bay. Everyone on staff were exceptionally polite, helpful and very warm and hospitable. They strive to make…
Read More
97.9%  post-stay Guest Surveys
4.5 out of 5 on TripAdvisor
Have a suggestion, a concern or even a compliment? Please let us know so we make every day and every stay better.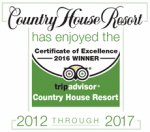 Connect with us on Social!