What Our Guests Say About Country House Resort
We've curated these guest reviews from our first-hand comments from guests and from sites like TripAdvisor, Google Local and Facebook. We appreciate any and all feedback from our guests.
Our hearts and souls go into our independently-owned, family-run business. We promise to do our best to live up to your expectations and will try to delight you at every turn.
Absolutely beautiful! We had a 2nd floor King water view room. This resort exceeded my expectations. Everything that I was looking for was here, serenity, beautiful scenery, free breakfast that was wonderful every morning. The resort staff is so kind and accommodating to all your needs. My husband and I will be coming back to…
Read More
97.9%  post-stay Guest Surveys
4.5 out of 5 on TripAdvisor
Have a suggestion, a concern or even a compliment? Please let us know so we make every day and every stay better.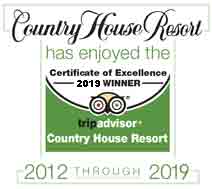 Connect with us on Social!