Country House Resort Frequently Asked Questions
Below you will find a detailed list of Country House Resort frequently asked questions. If your question isn't answered here, please contact the Country House Resort's friendly and knowledgeable staff who will be happy to answer all of your questions. They can ensure you have the most accurate and up-to-date information to make your stay as relaxing and enjoyable as possible.
Just click on a question mark to find the answer!
We look forward to seeing you!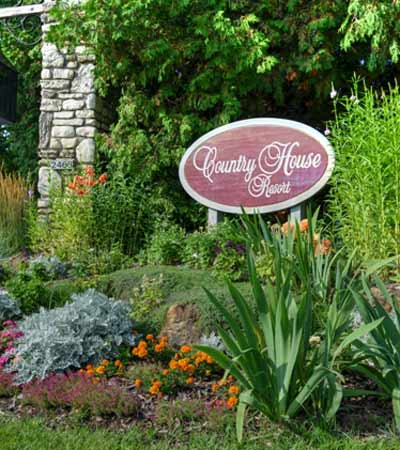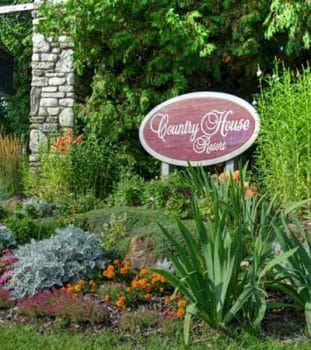 We are located ¼ mile off of Hwy 42. We are ½ mile from the Country Walk Shops and approximately 1 mile from the Sister Bay Village center.
There are many of restaurants offering a variety of meals in nearby Sister Bay. Our staff will gladly recommend something based on your budget and taste. You can also consult our Door County page for ideas around the area. Advance reservation are recommended for fine dining restaurants.
In addition to bikes and kayaks, guests are welcome to enjoy our newly resurfaced tennis and pickleball court, horseshoes, ladder toss, shuffleboard and best of all; 1,100 feet of shore with a nature trail that leads into town along the water.
Bikes & kayaks are complimentary and may be checked out at the office on a first come, first served basis. They are available approximately May through October and subject to weather conditions. Helmets and life jackets are also available. Bikes may be ridden off property but may not be loaded into a vehicle for transport to trails or other locations.
We have a seasonal dock and water levels vary. You may be able to pick up or drop off passengers at the dock but you may not tie up at any time. The closest boat launch is at the Sister Bay Marina. Parking for boat trailers is available on the resort property.
Please contact the front desk for specifics.
Well-behaved dogs are most welcome at the Country House Resort! In fact, we love to treat dogs as our special VIPs with dog friendly Welcome Baskets! ADVANCE RESERVATIONS ARE REQUIRED. Learn more about our dog-friendly offerings and our rules for bringing your dog. Dogs MAY NOT be left unattended in guest rooms at any time (yes, we need to make sure every one is happy about having fido around the resort).
No, only dogs are allowed.
Front Desk Questions & Check-in
Office hours vary by season.
Approximately May – October the office is open 7:00 a.m. to 10:00 p.m.
Approximately November – April the hours are M-F 7:30 a.m. to 4:00 p.m., F & Sat. 7:30 a.m. to 8:00 p.m. and Sun 7:30 a.m. to 2:00 p.m.
Please call the office on the day of your arrival and they will provide you with information about a late check-in.
In order to ensure that rooms are thoroughly cleaned, inspected and ready for arriving guests we are unable to provide late check-outs. Rooms may be available for early check-in after 1pm. Contact the front desk after 1pm on the day of your arrival to inquire if your room is available for early check-in.
When you make a reservation your credit card will be charged for the amount of a one night stay plus tax. Your card will be charged for the remaining balance of your stay at check-in.
Deposit less $20 service fee will be refunded for reservations canceled 14 days or more prior to arrival date.
No refund will be made for any cancellation received within 14 days of scheduled arrival.
Deposit applies to last day of reservation. If reservation is changed after arrival, you will be responsible for original reservation.
Located at 2468 Sunnyside Rd., Sister Bay, WI 54234 and approximately ¼ mile off of Highway 42 on the shores of Sister Bay in Door County, WI, the resort offers a unique location for the perfect getaway. GPS Coordinates:  45.1911289, -87.131499  N45° 11.4677', W087° 7.8899'
During our peak season, which is approximately May thru October a breakfast buffet is provided in our lobby area each morning from 7:30 a.m. to 10:00 a.m. The breakfast buffet includes coffee, juice, milk, cereals, yogurt, breads, pastries, a daily hot breakfast item and of course Door County cherries! 
A grab-n-go breakfast is provided in the lobby area during our Quiet season which is approximately November through April. This includes juice, yogurt, scones & pre-packaged breakfast sandwiches which may be heated in the microwave in your room. (Menu items are subject to change)
There is no restaurant in our hotel. Breakfast is the only food service available.  However, within short driving distance, you'll have access to a wide variety of restaurants.
The Country House seeks to provide a quiet, relaxing atmosphere for adults only. This is your opportunity to enjoy an adult or couples getaway.
The Country House welcomes adults and children 13 years of age and older. No one under 13 years of age is allowed on property.
No. Our two-story establishment does not have an elevator. Second floor rooms are accessed but stairs.
Yes, some of our rooms are wheelchair accessible. When calling for a reservation, please advise us of your needs so we can ensure you are booked in an accessible room.
Smoking is not allowed in any guest rooms, private balconies, public balconies or the pool or
whirlpool enclosures. Smoking is allowed in designated outdoor areas.
We have large parking areas located just outside of each building. Parking for trailers or large vehicles is available. Please contact the front desk for specifics.
We do not have a charging station on property but can provide extension cords for access to 110v.
Our rooms include a vast array of amenities to make your stay enjoyable including small refrigerators, microwaves and single serve coffee makers.
Consult our Rooms page for additional information.
There are no irons or ironing boards in the rooms but full size irons and small ironing boards may be checked out in the office at no charge.
Complimentary high speed wireless internet is offered throughout the hotel; including rooms, poolside, terrace, communal areas or the lobby breakfast area.
Each of our rooms has a small table and chairs along with free access to Wi-Fi.
No, cots and rollaways are not available.
Yes, some of our rooms are wheelchair accessible. When calling for a reservation, please advise us of your needs so we can ensure you are booked in an accessible room.
Connect with us on Social!